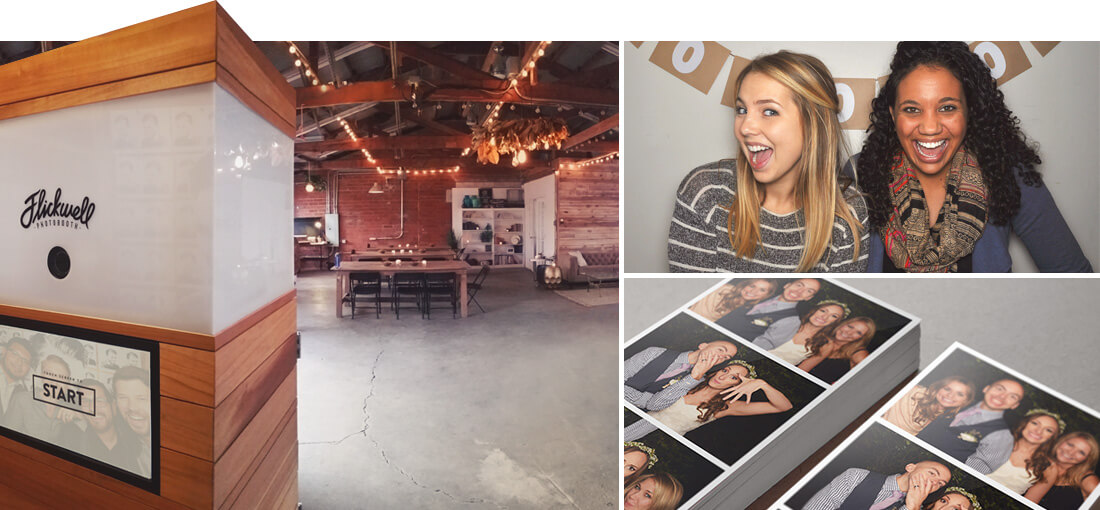 Lindsay's Tea Party is all about throwing the best parties and events all throughout San Diego! Today, we are so pleased to share with you about our favorite new photobooth service, "Flickwell"!
Flickwell is a fun and innovative way to offer fun snapshot (printed photos) for your next party or special event. We recently held a corporate Christmas Party and decided to invite Flickwell along for the fun! We are so glad we did!
Our guests quickly lined up at the box shaped booth. The instructions are on the screen and quickly and seemlessly walk your guests through the photo taking process. Fun props can be added if you desire, however we just decided to have fun with the pics and say cheese in a handful of ways & faces!
Our guests each got a print out of 4 pics! (so if you are couple, you each get one which is so nice). Immediately you know they will go home and hang it on the fridge for show and tell…
Flickwell summarizes their service like this:
You've put a lot of thought, attention to detail, and creativity into your event — and we appreciate that. Flickwell as a brand and as a photo booth strives for the same. The Flickwell photo booth was designed to be a warm and modern visual compliment to your event, in addition to providing professional-quality photos and prints, and a fun and engaging experience for your guest.
The Flickwell photo booth is an open-air booth, built with high-quality materials and professional photography equipment, and is fully contained in the small footprint of 2ft by 2ft. 
So what are you waiting for? Drop Flickwell an email and book your next event today! Your guests will love that they get to take a memory home and you will love that your party is so fun and festive.
Mention Lindsay's Tea Party sent you for VIP service!
As the Editor of LTP, I participate in review opportunities and I then share as I see fit. All opinions expressed are that of Lindsay's Tea Party and are honest and reflect my actual experiences. I would like to extend a special thank you to Flickwell for the opportunity to review its fabulous photobooth and share our highlights with Lindsay's Tea Party (LTP) readers. We truly enjoyed their services and we will definitely be calling them for our next event!
For more information on a review or giveaway, please visit my Media Kit